WPP's Sorrell: LUV is in the air
Sir Martin Sorrell has warned of a 'LUV-shaped recession'. As we all know, luv hurts...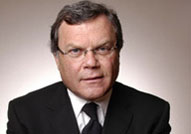 The boss of ad giant WPP, which includes JWT and Ogilvy and Mather, as well as Finsbury PR and TNS market research, is saying the recession is L-shaped in the UK and Western Europe, U-shaped in the US, and V-shaped in Asia and the Bric countries.
If Sorrell's diagnosis is right then us Brits may well be left broken-hearted. L-shaped recessions involve a protracted period of economic stagnation - like the one that struck Japan during its 'lost decade' of the 1990s, causing scores of usually stoic salarymen to break down and utterly lose their marbles. The U involves a period of stagnation before things get better (as in the US, which is now officially out of recession); while the V-shape is what you really want - an economy that hits bottom but bounces straight back up again.
The phrase isn't actually Sorrell's - it was previously used by Reuters blogger Stella Dawson, who described the recent months as the 'summer of Luv'. Sorrell then picked it up for a WPP trading statement, calling it: 'the most acute description in the alphabet soup debate on the shape of the current economic cycle'.