Xstrata open to offers
More excitement in the mining sector today, with Xstrata telling the world that it's up for sale to the highest bidder. It could make a nice Christmas present for a loved one, if you've got a spare £40bn lying around.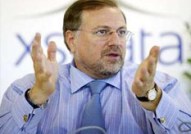 With BHP Billiton continuing to court rival Rio Tinto, and consolidation in the air, Xstrata has clearly decided that it's a good time to cash in. Ironically, in recent years it's gained a reputation as an aggressive buyer – but now that other buyers seem to be in the market, it has apparently concluded that now's the right time to sell.
Unfortunately, it hasn't bothered to take a course in Plain English first. 'Xstrata confirms that its ongoing interaction with other industry participants includes dialogue with a number of parties covering a range of topics of mutual interest such as industry consolidation,' it said today. Which we think means: 'We're talking to a few potential buyers'.
The early favourite in the bidding is Brazilian mining giant Vale, though according to the FT Xstrata chief executive Mick Davis is also trying to woo Cynthia Caroll, his counterpart at Anglo American. Plus there's always a chance that if BHP continues to get the cold shoulder from Rio, it could switch its attentions elsewhere. Though with a market cap of about £36bn, Xstrata isn't exactly a stocking filler.