Yahoo still playing hard to get
Just days after rebuffing Microsoft, Yahoo now has to fend off the amorous advances of Google...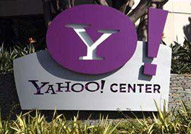 Not content with doing its level best to scupper the Microsoft and Yahoo deal (which finally collapsed last weekend), search giant Google is now fluttering its eyelashes and making come-hither gestures at Yahoo now it's back on the market. Yahoo agreed to outsource a small proportion of its online advertising to Google for two weeks last month in a move widely seen as a 'poison pill' defence against Microsoft's takeover – and now Google wants more.
'We have been talking to Yahoo and we are very excited to be working with them,' Google co-boss Sergey Brin apparently told reporters before the AGM. 'We share a lot of values with them.' By which he presumably means: they both like search and they both hate Microsoft…
The temporary tie-up certainly seems to have had the desired effect – Microsoft boss Steve Bullmer cited it as the major reason why he chose not to take his bid directly to shareholders. But Brin's trouble is that now Microsoft is out of the picture (at least for the time being) Yahoo might be a little more reluctant to team up with its biggest rival. Admittedly it makes more money from these search terms by outsourcing them to Google (because Google's searches are much more profitable than any of its competitors) but it still seems a bit bizarre to outsource the most successful bit of your business to the market leader. It's a bit like Arsenal or Liverpool letting their best players turn out for Man United – hardly likely to help the wannabe catch up in the long run….