Yahoo's disembowelment should surprise no one
Being a less-good Google simply doesn't cut it.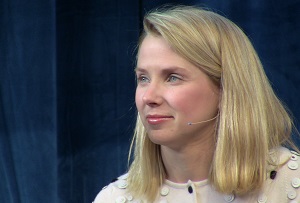 Most west coast tech giants are really good at doing one thing. Amazon can sell you pretty much anything, often at an unbeatable price. Apple makes beautiful hardware that keeps its die-hard fans coming back for more. Google has an insurmountable share of the search engine market (and all the advertising revenue that entails) and Facebook keeps us all connected.
So what is Yahoo for? The news that Marissa Mayer's outfit is considering a sell-off of its internet division might seem perplexing. Isn't Yahoo one big all-encompassing internet division? Most of its money comes from advertisers, who pay to appear alongside its search results, media content and other online services.
But those income streams have been on the slide. Yahoo's total revenue in 2010 was $6.3bn (£4.2bn); last year it was just $4.6bn. Though former Googler Marissa Mayer brought great expectations when she arrived as CEO in 2012, she has failed to arrest the company's decline.