Yellow jersey for Halfords as profits rise 6.4%
Excitement over the Tour de France and good weather both contributed to the retailer's good fortune.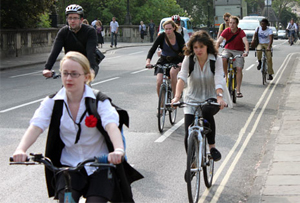 You can always tell a trend has properly filtered through to consumers when big retailers see their fortunes transformed. This morning, bike specialist Halfords posted a 6.4% rise in profits for the six months to the end of September: the figure rose to £4.46m on sales up 7.7% to £490.6m. This can only mean one thing: cycling just went mainstream.

Even as recently as May, the company reported a 25% drop in profits (although revenues had inched up by 1%) – but today chief executive Matt Davies heaved a sigh of relief as he said that although it's 'early days in our three-year transformation plan, it is encouraging to see the retail business deliver a strong first-half performance'.

Clearly, the 'Wiggo' effect is helping the business out: as the nation's commuters took to two weeks, underlying sales in Halfords' cycling division rose 14.2%, which Davies putt down to increased efforts in marketing and better product ranges, as well as British success in the Tour de France. The good weather didn't hurt, either.

During his previous results announcement, Davies induced road rage in some of his investors by cutting dividends, saying that the company needed the cash to train its staff. He also said he wanted to focus more on spare parts – apparently Halfords sells a quarter of all bikes in the UK but only has a 15% share of the spare parts, clothing and accessories market.

This time, cycle repairs (of which Halfords has a market share of just 8%) and car maintenance rose by 27.7% and 8.8% respectively.

Expect the figures to improve even more next year, as Tour de France mania takes the UK by storm when the race comes through the UK.