'You can't match the PR that comes with Dragon's Den' - Scott Cupit, Swing Patrol
20 QUESTIONS: The founder of the swing dance class startup talks about performing at Buckingham Palace and why his pitch to Deborah Meaden almost failed.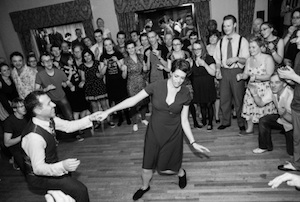 1. IF YOU HAD DONE SOMETHING ELSE WHAT WOULD IT HAVE BEEN?
I think I would have run some sort of tourist company. Every day outside my door, I run into tourists who ask, 'Can you give me a hand?' Now I offer to help people. I always get a real buzz out of it. Mostly people appreciate it, otherwise they run away - they think they'd get mugged.
2. WHAT ELSE WOULD YOU NAME YOUR BUSINESS?
It has to have the word swing in it - other dances like the Lindy Hop are too obscure. So I would probably name it after a classic swing song - Pearly Shell Swing or Madam Dynamite Swing.
3. IF YOU COULD BE BASED IN ANOTHER CITY WHERE WOULD IT BE?
Berlin. It's just so uber cool. It's got a bigger swing culture even than east London. We've got Swing Patrol Berlin and every time I come back I'm like, 'I've got to live here one day.'