'You need humility to accept your own mistakes' - Reuben Singh
YOU LIVE AND LEARN: The founder and CEO of alldayPA and Isher Capital on the mistakes he made.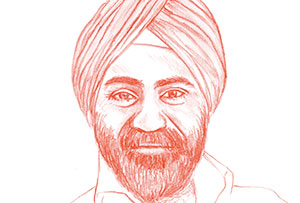 As founder of 90s teen fashion store Miss Attitude, Singh was hailed as the 'British Bill Gates' while still in his early 20s, but his meteoric rise was followed by an equally precipitous fall. He lost control of his second business, alldayPA, to his parents (as well as losing his legendary yellow Bentley) and was successfully sued by his bank over an unpaid company loan he had guaranteed. Singh was declared bankrupt in 2007 with debts of over £11m. He's still with alldayPA.
I opened my first Miss Attitude store when I was 17. I used to work 20 hours a day. My father wanted to involve me in his family business, but I didn't want to be known as somebody else's son.
Sincerity and integrity have always been paramount. A banker once quizzed me for an hour on my faith while I tried to get him onto my business plan. He gave me a loan because I was a practising Sikh. He said if you're sincere to your faith, I trust you.