'You're either an entrepreneur or you're not' - David Harrison, True Potential
The former builder has built two multimillion pound turnover financial services companies - and says he's 'not afraid to make an arse of myself'.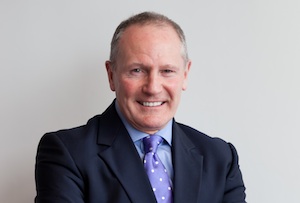 The importance of luck for entrepreneurs can't be overstated. Even with the perfect product, excellent financials, a great brand and the right top team, changes in market conditions or any number of out of the blue disasters can send your best-laid plans down the drain.

David Harrison knows all about that, although in his case luck was on his side. Thanks to unexpected changes in regulation in 2002 his independent financial advisory (IFA) business, Positive Solutions, suddenly became hot property and was snapped up by insurance giant Aegon for a reported £130m.

It wasn't the first time that good fortune brought Harrison success – although the first time it wasn't immediately apparent. Brought up in County Durham, he began his career working in a variety of manufacturing and engineering jobs before starting a building firm which grew to 66 employees.

'Employing that many bricklayers and hod carriers is a lot more difficult than 4,000 financial advisers,' he joked to MT. All was going well until Harrison, then 33, badly broke his leg in a football game. Climbing up and down building sites to manage a team of builders suddenly didn't seem like such a good idea. But in, his own words, 'a bit of bad luck became good luck.'

Looking for a new vocation, Harrison took an interest in selling after a recommendation from his wife's friend's brother who worked for assurance firm Hambro Life, where he landed himself a job.

'I couldn't believe they would pay you to sell, give you a fortnight's free training, pay for airfares down to London,' he says. 'I know it sounds a bit naïve now because everybody takes these things for granted, but it was quite a big change.'

After more than a decade working up through the ranks of the company (which later became Allied Dunbar) he decided something wasn't quite right. Despite being a successful company in sales terms, profits weren't great, and Harrison felt this was because of unnecessary spending on admin. By using technology to cut out most of the paperwork, he believed he could build a more successful business. Unfortunately for him, management had other ideas.

'There comes a point in time when you think you're right and everyone else thinks you're wrong,' he says. 'Sometimes that is right. Mostly it's the other way – people getting too big for their boots and all of their colleagues think... he's mad.' In this case it looks like he was right.

He left Allied Dunbar and created Positive Solutions with his colleague Maurice Cotter. The pair remortgaged their houses to fund the business, a move which would scare a lot of people, but which Harrison describes as 'normal'.

'I wasn't worrying because I think... this sounds quite harsh... you either are an entrepreneur or your not,' he says. 'I wasn't ever scared of trying something new and I'm not afraid to make an arse of myself – because I am an arse. It does not bother me at all, but I think that's quite rare.' Harrison also gave up two company cars, a PA and the highest salary he's ever had, even up until today.

Positive Solutions began trading in 1997 and by 2001 was the largest privately owned IFA in Britain, with a turnover exceeding £10m. When Aegon stumped up £130m for the company in 2002, at which point Harrison was still a major shareholder, it must have been tempting to retire in peace, but he was hungry for more.
Before Positive Solutions was acquired it had plans on the table to expand its range of services, but this wasn't something Aegon was interested in pursuing. After the three-year earn-out period and a short break, Harrison launched his current business, Newcastle-based True Potential, another personal finance company with a name that sounds a bit like a self-help book. This has since become the fastest-growing British financial services business outside of London.

The business today has three arms: a traditional wealth management division, a technology provider for IFAs and an online wealth management platform for individuals to manage their money with. Sales at the business grew by more than 100% last year and were up 64% year-on-year to £40.4m in the first 11 months of 2014. The business currently has £82bn of client assets and made a pre-tax profit of £5.2m last year.

Though his son Daniel is part of the management team, Harrison is clear this isn't a family business to be passed down the generations – partly because ownership is divided among hundreds of partners. An exit could be on the cards at some point, if the right offer came along.

'It's a rare person who doesn't have a price, but I won't make that decision,' he says. 'Although I'm the majority shareholder, it would be up to the senior partners to decide that – that's how we make all the big decisions.'