'You're just not a real man unless you've got a chainsaw' - Giles English
MY LIFE/STYLE: The co-founder of watchmaker Bremont loves flying his 1930s Gipsy Moth when he's not chopping down a tree or two.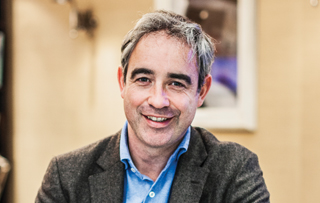 Work
Mornings involve muesli, emails and a lot of coffee. I listen to Radio 4 during the hour's drive from my home in Banbury to our Henley workshop, in my 1973 Porsche 911. It's fallen apart three times in the 20 years I've been tinkering with it, but that's the fun with classic cars. I'm a relaxed dresser. Usually it's Emmett shirts, Hackett jackets and Cheaney shoes. They have an understated, classically British look. No one day is the same at Bremont. We see retailers, talk to watchmakers and discuss new products, but the best thing is holding a prototype in your hand after two years of hard work. Lunch is usually a prawn sandwich thrown in my general direction, but for business I like to go to George in Mayfair, which is near to our boutique. It does wonderful black cod.
Travel
We're opening a boutique in New York, so I'm often there, but my favourite city is Hong Kong. It has such a spark, and I love its historic Mandarin Hotel. British Airways or Emirates have the best service, but all the glamour of commercial flying has gone. Bose noise-cancelling headphones block out the hiss and rattle of trolleys. When I was 10, my father built a boat. We approached Mahon in Menorca under a clear blue sky, thinking how special it was, and still visit every year. Another great memory is of Jerusalem. It was the 1980s, when they were fixing the dome of the Holy Sepulchre). I climbed up the scaffolding and got a rooftop view of the Wailing Wall. I'd love to go back.
Personal
Weekends are for family, but my three girls have different ideas of fun to me. I love the Science Museum and shooting with my EJ Churchill shotgun; they love Instagram. I acquired an affinity for the outdoors growing up in Norfolk, and we still go regularly to our holiday home in Brancaster. My brother Nick and I are in a bad rockabilly band called Trash Alley. I play guitar. I have several, but my favourite's an utterly beautiful Martin acoustic. I hate the gym, but love exercise. The best form without doubt is cutting down a tree, but when I do it, it always falls the wrong way. If there's an especially big one, Nick and I get out our Husqvarna chainsaw, which we call The Beast. You're just not a real man unless you've got a chainsaw.