Yuletide blues: UK's workforce left empty handed come Christmas
Vouchers? Food hampers? Pah! Most UK workers don't even get a lump of coal from their employers at Christmas.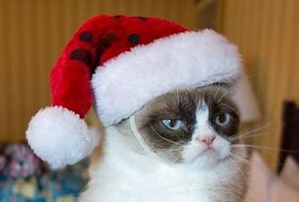 Times are tough for the average UK employee; wage rises have become non-existent, the fear of redundancy is pervasive and now, we find conclusive evidence that nearly half, HALF, of British workers get no present from their employer at Christmas. Woe is us, we've come over all Dickensian – Bob Cratchit's got nothing on us.

The research comes to us via Argos for Business, a leading provider of 'incentive and motivation solutions for organisations' – ie. cheerless gifts for you to bribe, ahem, reward your workers with.

Unsurprisingly, Argos has found not enough businesses give their workers presents – 42.7% of Britons don't receive a gift from their employer. Workers in the south east are the least likely to get a present from the boss and women are 12.6% less likely to get one than men. Humph.

Apparently, gift vouchers are at the top of our Christmas lists at work, more than a third of workers want these from employers (we hear Argos does a nice voucher). These are closely followed by extra holiday days, food hampers, iPads and spa days. But why stop there? MT is demanding a Maserati this festive season.

In other office related news, MT also hears eight out of ten workers keep their salary secret at from their colleagues. We're thinking that's because many people are contractually obliged not to discuss such things – but who are we to say?

According to totaljobs.com 78% of British worker bees never talk about their wage packet in the office. Just under a third of us don't even talk about earnings with our friends and family.

'Salary is an emotive and controversial topic in the workplace and, therefore, is something most people would rather avoid discussing,' reveals John Salt, director of totaljobs.com.

'Pay structures and bonuses are often shrouded in mystery which can cause resentment among colleagues. Companies should be more open about pay and benefits to remove this ambiguity and to motivate employees as they will know exactly what the rewards are for their hard work.'

So, when it comes to moolah, mum's the word. My my we are a secretive, hard done by bunch aren't we.