Yves Saint Laurent tops list of wealthiest dead celebs
Yves Saint Laurent was the world's top-earning dead celebrity this year. But he faces stiff competition...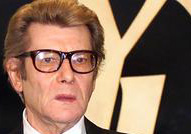 The French fashion guru, who passed away last year with brain cancer, has topped the Forbes list of earnings among deceased celebrities, with a total of $350m. Musical duo Rodgers and Hammerstein came second, with $235m, followed by new entry Michael Jackson, with $90m.
There's a lot of life in these numbers. Taken together the top 13 grossed a staggering $886m. While you can't take money with you, it seems there's nothing stopping you raking in astronomical sums even once you're six feet under.
Yves Saint Laurent has certainly done all right in the year since his death. The designer scooped $350m when the bulk of his estate was sold off via Christie's. His art collection alone, which went down as the art sale of the century, took more than £317m. Rodgers and Hammerstein also benefitted from a one-off income, when the Rodgers and Hammerstein Organisation was bought by Imagem Music Group. The pair made $235m from that sale and the rights to music for shows like Oklahoma, South Pacific and The Sound of Music.